Skip Navigation
Website Accessibility
VIKING DESIGNER SE
Quantity:

This item is not available for purchase online. Please call (616) 361-5484 for more information.

VIKING DESIGNER SE EMBROIDERY AND SEWING MACHINE
The Viking Designer SE was quite possibly the most advanced home embroidery machine of it's time. The large LCD screen greets you. Rows of long lasting diodes light up with an optimum setting. Your view of sewing and embroidery will change forever.
The Designer SE features the very latest features that will expand your creativity and enhance the joy of sewing. It has two built in advisors, one for sewing and one for embroidery. There are two USB ports to connect computers and accessories. You will find impressive interactive 3D embroidery capabilities.
This newest invention from Sweden's Husqvarna Viking was created from your sewing desires. The built in flexibility and adaptability will provide joy for years to come.
VIKING DESIGNER SE KEY FEATURES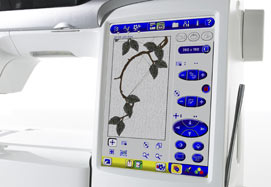 Interactive DESIGNER® Screen
The large Interactive DESIGNER® Screen with 3D view is the first thing to draw your attention. In addition to its huge size, the Interactive DESIGNER® Screen is also the easiest to use. Just use your stylus or an optional USB mouse to activate any function, any stitch or any information with just a touch!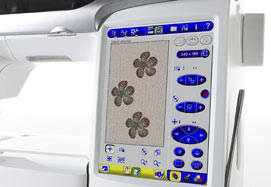 Interactive 3D embrodiery.
See all the beauty and detail of your designs in actual thread colors on the Interactive DESIGNER Screen in 3D. To save time, select a 3D background color that matches your fabric to see how the finished project will look before you start! Note the background color under the flowers (left).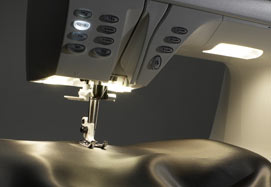 E light.
Rows of long-lasting light-emitting diodes (LED) give perfect natural lighting. They are above the free arm and the needle to reduce shadows and provide the best light for sewing. Adjust the brightness and color tone of the light to see your fabric in true color.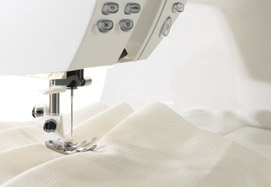 Exclusive Sensor System.
The Exclusive Sensor System is like having a helping hand! It automatically raises and lowers the presser foot. It also ensures perfect feeding by setting the presser foot pressure for any fabric thickness. There is even an extra lift position for thick sewing projects like quilts. The Sensor System lowers the feed teeth to provide the extra space for them to slide in easily. On screen arrows show the needle stop position. Stop sewing with the needle down and the Sensor System automatically raises the presser foot to a pivot position, a perfect floating position for the thickness of your fabric. Both of your hands are free to guide your fabric.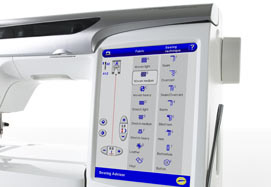 Exclusive Sewing Advisor™.
Instant help is always available. Just enter the type and weight of the fabric on the touch screen. The Exclusive Sewing Advisor instantly recommends the best needle and stabilizer as well as top and bobbin thread. Alter the settings anytime for specialty techniques.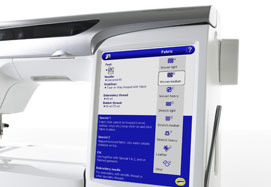 Exclusive Embroidery Advisor™.
Simply enter your fabric type, weight and sewing technique and get the perfect stitch. The Embroidery Advisor sets the best stitch, stitch width and length, thread tension, sewing speed and Sensor Foot Pressure. It also recommends the best presser foot, the proper needle, whether stabilizer is needed and more. Change any or all of the settings anytime for specialty methods.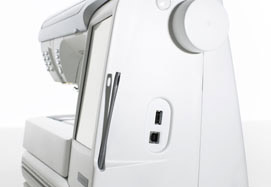 USB connectivity.
There are two USB ports that make it easy to transfer designs to and from your computer, an optional floppy disk drive or an optional CD drive using a USB Embroidery Stick. Navigate your Interactive DESIGNER Screen to quickly make changes or choose different functions using an optional mouse. The DESIGNER SE Limited Edition is ready to handle most popular design formats available.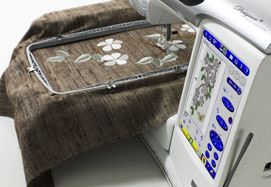 Exclusive Selective Thread Cutter.
In sewing or embroidery mode, one touch cuts the top and bobbin thread. In embroidery mode, it automatically cuts only the top thread for color changes.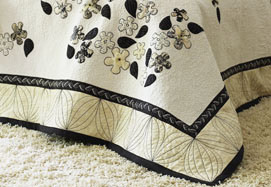 1000+ stitches,
Every possible stitch you desire is at your fingers for endless creative opportunities.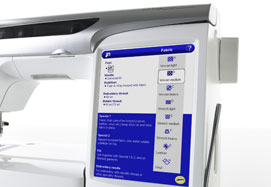 Resize.
Resize the design, the Designer SE recalculates the number of stitches.

VIKING DESIGNER SE GENERAL FEATURES
Adjustable stitch width from 0 - 7mm.
Adjustable stitch length from 0 - 6mm.
Alarm repeat.
Automatic feed teeth drop.
Block, outline block, brush line and script alphabets.
Built-in stylus holder.
Easy threading and automatic needle threader.
Selective thread cutter.
Eight-way stitches.
Electronic power/speed control.
File manager.
Fix function.
Four-way stitches.
Instant and permanent reverse.
Needle stop up/down.
Mirror image.
One step buttonhole sensor foot.
Exclusive Perfectly Balanced Buttonholes (PBB) which sews both columns in the same direction for balanced, professional buttonholes.
Permanently lubricated.
Pictograms.
Preprogrammed appliqué stitches.
Quick wind bobbin.
Real time operating system.
Sew without foot control.
Snap off and on presser feet.
Top and bobbin thread sensor.
Truly automatic self adjusting tension.
Twin needle safety.
29 needle positions.
Two built-in spool pins.
VIKING DESIGNER SE INCLUDED ACCESSORIES
Bobbins
Use 3 embroidery hoops without repositioning.

Standard Hoop 4 inches x 4 inches (100 x 100 mm).
Large hoop 9.6 inches x 6 inches (240 x 150 mm).
Mega Hoop 14.2 inches x 6 inches (360 x 150 mm).

Hard Cover.
Included Feet.

General purpose foot.
Applique foot.
Buttonhole foot and Electronic Sensor BH Foot.
Blind hem foot.
Edging foot.
Embroidery/Darning foot.
Non stick glide foot.
Side Motion foot.
Zipper foot.

Screw Driver, bulb remover, Lint Brush, tools...
Instruction manual
NOTE: Does not include a USB Stick. Limited to 2g or less.