Viking Designer I Key Features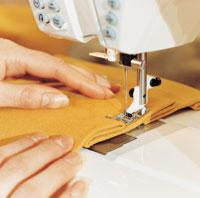 THE EXCLUSIVE SENSOR SYSTEM
One of the most amazing features of the Designer I is ESS, the Exclusive Sensor System. The exclusive Sensor Foot Lift, Sensor Foot Pivot and Sensor Foot Pressure senses fabric thickness and adjusts accordingly. You can guide the fabric with both hands the whole time. Turning corners is a breeze.
HUSQVARNA VIKING Floppy Drive
Save your designs on a special Husqvarna Viking Floppy Drive .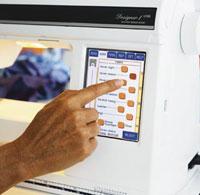 THE BEST TOOL IS BUILT IN
The exclusive Husqvarna Viking Sewing Advisor feature is invaluable no matter what you're sewing. It's so simple! Just select your fabric type and weight and sewing method. The Sewing Advisor instantly sets the ideal stitch, stitch width and length, thread tension, sewing speed, sensor foot pressure. It also recommends the presser foot and needle. With the patented Sewing Advisor, your sewing will be faster than ever. You will get perfect results no matter what fabric you use, from the finest silk to the thickest leather.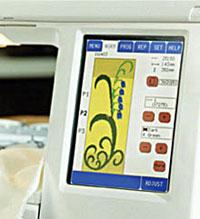 COLOR TOUCH SCREEN
A simple touch is all it takes on the Designer I Color Touch Screen. Select a stitch, embroidery or technique with the tip of your finger or with the Stylus. Your selected stitch appears on the screen in the direction it will sew. When you embroider you see your design on the screen in full color before you even start. The Designer I features 20 menus with over 700 different stitches including Omnimotion and Pictogram, satin elements for unlimited sewing possibilities. It has 15 built-in permanent memories to store your favorite stitches and lettering combinations. The large Color Touch Screen also displays recommendations in a special help menu, telling you everything you need to know for successful sewing.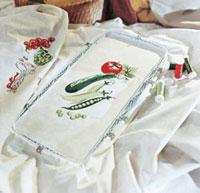 YOU CAN'T GO WRONG WITH EMBROIDERY
The Husqvarna Viking Designer I is both a sewing machine and an embroidery machine. You have endless opportunities to develop your creativity and personal style. The feed teeth are lowered automatically when you slide on the embroidery unit. With a vast range of designs in Husqvarna Viking's embroidery collections, you'll never be at a loss.