Skip Navigation
Website Accessibility
PFAFF CREATIVE 4.0
Quantity:

This item is not available for purchase online. Please call (616) 361-5484 for more information.

Pfaff Creative 4.0 Sewing Machine
PFAFF is the brand which elevates sewing to new levels of creativity. The elegant design of the PFAFF Creative 4.0 sewing and embroidery machine is based on German tradition. It influences the look of an exciting new generation of sewing machines. You can use it as a source of inspiration and to explore your ideas. It's carefully designed technology makes sewing and embroidery easy.
SPACIOUS
The large, extended sewing space, a long free arm, and a large embroidery area are waiting for you!
BRIGHT
The perfectly illuminated sewing space, the brilliant PFAFF HD Screen and the three-dimensional view of designs, shapes and colors will fascinate you.
PRECISE
The original IDT system guarantees absolutely even fabric feed from top and bottom. Precise Positioning is the easiest, most accurate means of connecting sections of large embroidery creations. A huge selection of high-quality 9 mm stitches will inspire new ideas.
---
EMBROIDERY FEATURES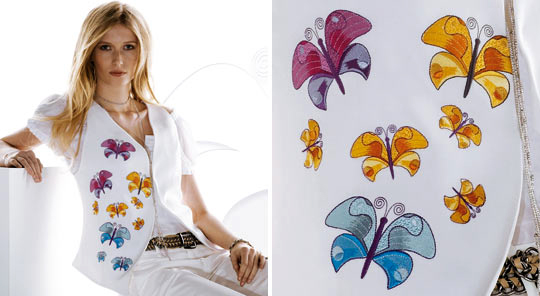 The moment you discover the fascination of embroidery...
Develop your own style. Fulfill your potential. A large embroidery area is waiting for your unique ideas. The PFAFF Creative ELITE Hoop (260 x 200 mm /10 x 8 inches) offers more than enough room for unique creations and exciting design combinations. The stitched embroidery design is brilliant; the results are perfect. Also included – the Creative SQUARE Hoop (120 x120 mm/4 ¾ x 4 ¾ inches) for small embroideries.
Your source of inspiration! More than one hundred enchanting embroidery designs are included when you purchase the PFAFF Creative 4.0 sewing and embroidery machine. These include the butterflies and all motifs shown in this brochure, so you can start embroidering immediately! You will find thousands of embroidery designs at your authorized PFAFF dealer and at www.myembroideries.com. A wide selection of topics and imaginative techniques are just waiting for you. The collection of embroidery designs is constantly being expanded – a continually growing source of new inspiration.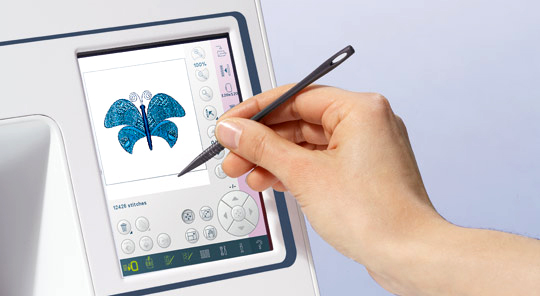 TOUCHSCREEN
Just a touch on the PFAFF High Definition Screen puts you in the world of unlimited possibilities. All the embroidery designs and stitches can be customized directly on the screen. Change and combine patterns to your heart's content. The intuitive, graphic interface makes it easy. Every change and adjustment is shown – in a realistic 3D view and in your chosen thread colors.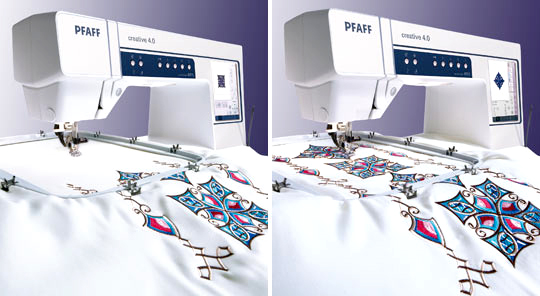 PRECISE POSITIONING HAS NEVER BEEN EASIER!
The joining of large embroideries has never been easier or the results more perfect. Just mark the desired positions directly on the PFAFF HD Screen. The Creative 4.0 sewing and embroidery machine begins at exactly the right spot to complete your design – it's like magic!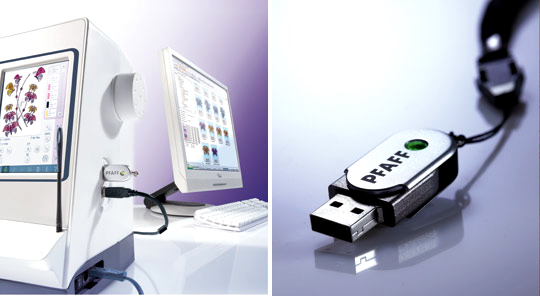 EASY TRANSFER WITH USB CONNECTION!
The PFAFF Creative 4.0 sewing and embroidery machine has two USB connections. Save all your favorite embroidery designs on the PFAFF USB Stick (1 GB storage capacity) and transfer them easily from your computer to the machine.
---
SEWING FEATURES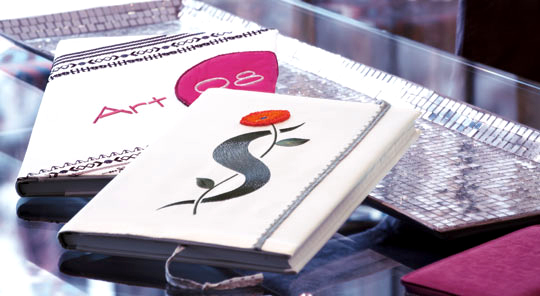 The moment you turn a decorative stitch into a unique embellishment...
Discover the potential of decorative stitches! Select from over 300 stitches – utility stitches, alphabets, and especially the large selection of unique decorative PFAFF 9 mm stitches. Each stitch is a small work of art and each can be changed for new amazing effects! See for yourself...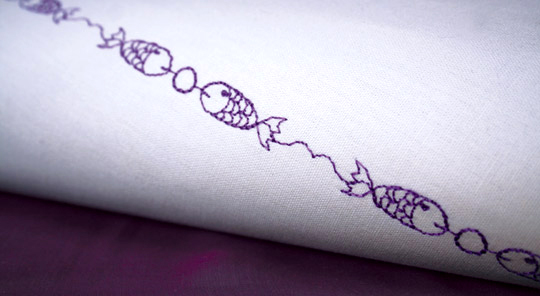 COMBINE, MIRROR AND SAVE YOUR INDIVIDUAL STITCHES!
Alter your favorite stitches, mirror them side-to-side and /or end-to-end, combine them, and change the settings of built-in stitches to your personal liking. Completely new patterns will appear before your eyes. Save your own stitches in the Personal Menu and sew them in one step, repeatedly. Incorporate Program Stop, Thread Snips or Tie-off into a stitch sequence. Your sequence does exactly what you want, every time.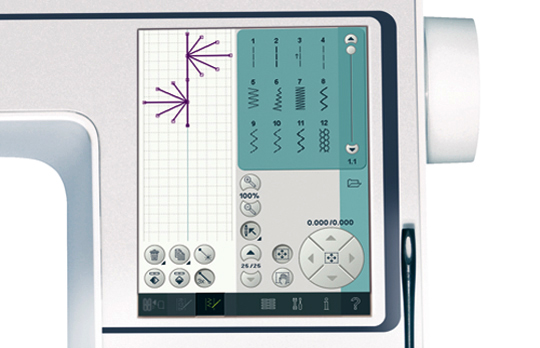 CREATE YOUR OWN STITCHES WITH THE STITCH CREATOR
With the Stitch Creator, you can create new decorative stitches directly on the PFAFF HD screen. Unique and only from PFAFF! You can also easily edit built-in stitches to add your own personal touch.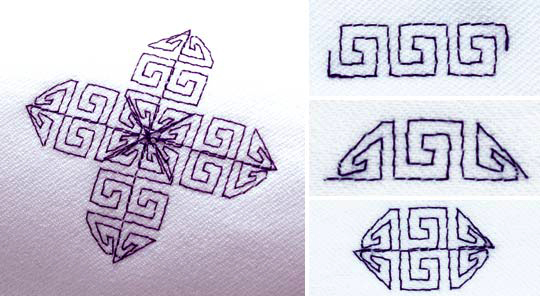 BEAUTIFUL RESULTS! TAPERING ON ALL 9 MM STITCHES!
Gradually increase or decrease the width at the beginning and/or the end of your favorite 9 mm stitches. Create perfect corners, choose different angles and use this function for fantastic effects and entirely new results. Connect, mirror and combine with other stitches to create unique designs and terrific highlights.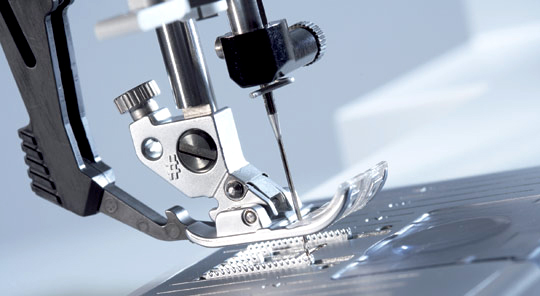 IDT
The ultimate in piecing perfection! Absolutely even fabric feed from both the top and the bottom. Everything stays in place when working with fine fabric or several layers. When sewing long pieces of fabric, such as curtains, both layers are fed evenly along the entire length. Patterned fabric, such as stripes, always match.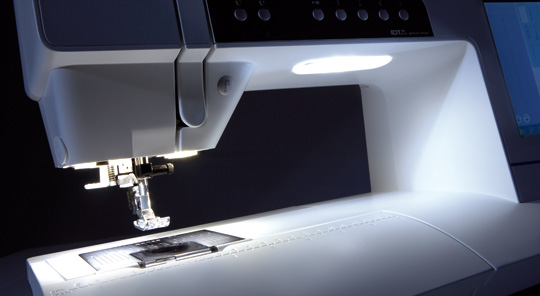 BRILLANT – LED LIGHTS
Optimized bright lights illuminate the entire sewing area with no shadows.
---
QUILTING FEATURES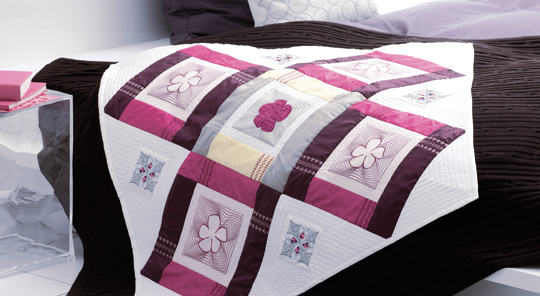 The moment you discover a new inspiration for your next quilt...
Every quilt refl ects an explosion of creativity and ideas. With the PFAFF Creative 4.0 sewing and embroidery machine, you will experience a new dimension of quilting.
WHEN QUILTING, SPACE AND PRECISION COUNT!
You need lots of space when working with large amounts of fabric. The PFAFF Creative 4.0 sewing and embroidery machine has the space you need – 250 mm (almost 10 inches) to the right of the needle – that's an unbeatable advantage. Leave the embroidery unit attached when you sew, to expand your work surface. Absolutely even fabric feed from top and bottom – that's the guarantee of the IDT-System.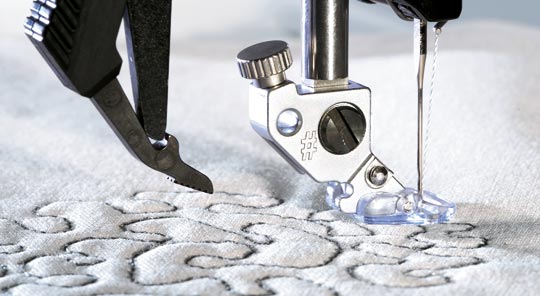 THE HIGHEST LEVEL OF SEWING AND QUILTING EASE!
At the touch of a button, the presser foot is automatically raised to its highest position or lowered, top and bobbin threads are cut, and the machine can be started or stopped without the foot control. The thread sensors let you know when the thread is running low or breaks. The PFAFF HD screen shows your stitches in actual size, at the recommended setting. Each setting can be changed, and the new setting can be permanently saved in the machine's memory for later use.
Adjust the presser foot pressure for the fabric you are using. With 37 different needle positions available for straight stitch, you can stitch each stitch exactly where you want it. The extra-large stitch plate has seam markings to the left and the right of the needle to guarantee the right spacing and perfect sewing results.
CREATE UNIQUE SURFACES!
Select one of the two Free-motion modes, and move the fabric as desired to create a unique stitched surface. The PFAFF Creative 4.0 sewing and embroidery machine sets the correct presser foot height and lowers the feed dogs automatically for you.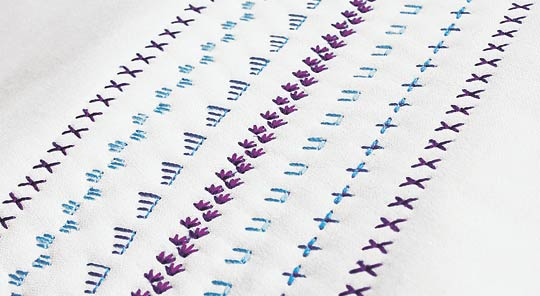 ONLY FROM PFAFF – UNIQUE ANTIQUE QUILT STITCHES
Beautiful stitches, admired by quilters from around the world. The quilt seam becomes a decorative detail, opening up even more areas of creativity.
PRECISION HAS NEVER BEEN SO EASY!
Stitch positioning lets you place the stitch exactly where you want it. Position decorative stitches, utility stitches and more for perfect topstitching and decorative effects.