JANOME MEMORY CRAFT 9700 SEWING & EMBROIDERY MACHINE
You get all the best features together in one machine with the Janome Memory Craft 9700!
A color touch screen for easy navigation and design layout.
Janome precision and quality.
A two-step conversion from sewing to embroidery. No other brand offers this!
GENERAL FEATURES
Upper thread, bobbin thread, and presser foot sensors.
Automatic needle threader.
Automatic thread tension control.
Automatic drop feed mechanism.
Color, backlit LCD touchscreen.
MY SET screen controls.
Multi-language designation.
Upgradeable via software.
Built-in memory.
Easy access accessory compartment in top lid.
One-piece sewing light.
SEWING FEATURES
Twin needle guard.
Start/stop sewing button.
Regular sewing speed: 820 spm with variable speed control.
98 Decorative and Utility stitches, plus 7 buttonholes.
Instant switch-over to/from embroidery to/from regular sewing.
EMBROIDERY FEATURES
Embroidery speed 450-650spm.
Time indicator.
Stitch counter.
Built in features.

95 built-in embroidery designs.
Three built-in alphabets.
Two and three letter monogramming.

PC link via ATA PC card.
Change colors to favorite thread (Janome, Robison-Anton, Madeira, Mettler).
Embroidery area tracing.
Editing.

Easy drag & drop for editing placement.
Resize to 90%, 100%, 110%, 120%.
Rotate in 45 degree increments.
Flip vertically or horizontally.
Zoom in and out.

Standard hoops: Large 5.5 inches x 7.9 inches (140mm x 200mm).
Standard 5 inches x 4.3 inches (126mm x 110mm).
Maximum embroidery size: 5.5 inches x 7.9 inches (140mm x 200mm).
KEY FEATURES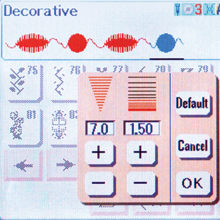 More Decorative Stitching.
Choose from 98 decorative stitches. Each stitch can be changed and/or combined, and saved to the built-in Memory banks.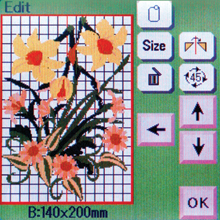 Color Touchscreen.
The MC9700 has a user-friendly menu for easy navigation. Set up and control is done on screen with the touch of a key. Choose your stitch and customize the width and length as needed. In embroidery mode, see how your design will look in the hoop.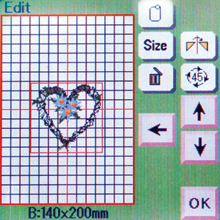 Touch Drag and Drop.
Built-in software lets you copy, delete, paste, rotate, resize, combine designs and lettering, create beautiful monograms, and select your favorite brand of thread.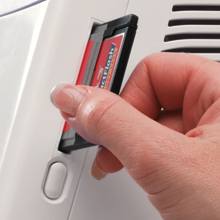 ATA PC Card.
Design transfer is quick and easy using the ATA PC Card (also known as "Compact Flash with Type II Adapter") that fits directly into the machine's port.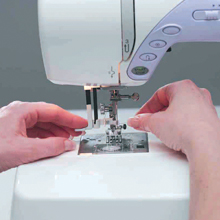 Automatic Needle Threader.
Save your eyes! The automatic needle threader makes threading quick and easy. That means more time for sewing.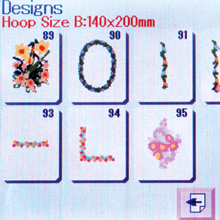 Built In Designs.
The MC9700 comes loaded with 95 popular designs, so you can start embroidering right out of the box.
STANDARD ACCESSORIES
Blind Hem Foot G.

Place the fold of fabric against the black guide for an invisible blind hem. Works even with topstitching and fabric tucks.

Darning Foot P2 (embroidery machines).

Spring-loaded foot for free-motion embroidery, quilting and free form monogramming.

Embroidery Foot P.

For Professional-Style Embroidery.

Overcast Foot M.

Industrial style overlock stitch for professional seam finishing. This stitch can finish off a raw edge or simultaneously perform seaming and overcasting.

Overedge Foot C (top loading 5mm machines).

Use with an overcast stitch to wrap thread around the edge of your fabric to prevent raveling. Fits top loading machines with 5mm zig zag stitch width.

Satin Stitch Foot F.

For dense zig-zag stitching. Bottom of foot is beveled for smooth delivery of thread when sewing decorative or satin stitches.

Zig-Zag Foot A.

Also called the all-purpose foot. Used for most utility sewing from straight stitch to zig-zag stitching.

Zipper Foot E.

For use when sewing in zippers.

Lint Brush.

Use it to brush away lint.
Set of needles.
Bobbins.
Foot holder.

Automatic buttonhole foot R.
Button sewing foot T.

Spool holder (large).
Spool holder (small).
Spool pin.
Spool stand.
Quilting bar.
Embroidery hoop (A) (with template) 5 inches x 4.3 inches.
Embroidery hoop (B) (with template) 5.5 inches x 7.9 inches.
Seam ripper.
Foot control.
Hard cover (Carrying Case).
Instruction book.
SPECIFICATIONS
One step instant switch to / from embroidery mode.
Automatic drop feed mechanism.
Semi-automatic thread tension control.
Upper thread sensor.
Bobbin thread sensor.
Presser foot sensor.
"P" foot sensor.
450-650 SPM Embroidery sewing speed.
Maximum sewing speed: 820 SPM.
Stitches.

Stitch package: 105 Stitches.
1 Lettering stitches.
7 Buttonholes.

Built in features.

3 Monogramming fonts.
Built-in designs: 95 Designs.
2&3 Letter monogramming emblems.

Giga hoop embroidery.
Free arm embroidery.
Favorite thread selection.
Embroidery area tracing.
Standard hoops.

Large: 5.5 inches x 7.9 inches (140x200 mm).
Standard: 5.0 inches x 4.3 inches (126 x 110 mm).

5.5 inches x 7.9 inches (140 x 200 mm) maximum embroidery field.
Built-in memory (embroidery).
Editing.

Drag and drop for design position adjustment.
90 / 100 / 110 / 120% Re-sizing (design).
Design combination.
Zoom function.
Flip (vertical / horizontal).
45 degrees.

Embroider time indicator.
Embroidery stitch counter.
Built-in memory (ordinary sewing).
Twin needle guard.
Top and bottom storage compartment.
Wedge base, 1 piece sewing lights.
Full color monitor with backlight.
PC Link: Off-line ATA-PC card.
Multi-folders (embroidery).

Built-in Memory: 1 Folder.
ATA-PC- 1 Folder.

Eco Mode: 1-30 min. + Off.
.JEF Embroidery format.
Outer memory device.

ATA PC Card.
PC Design Card.
Memory Card via Card Reader 10001.

11 Programmed Languages.
Hard Cover Case.
Bonus includes small hoop c and embroidery Memory Craft Cloth Setter