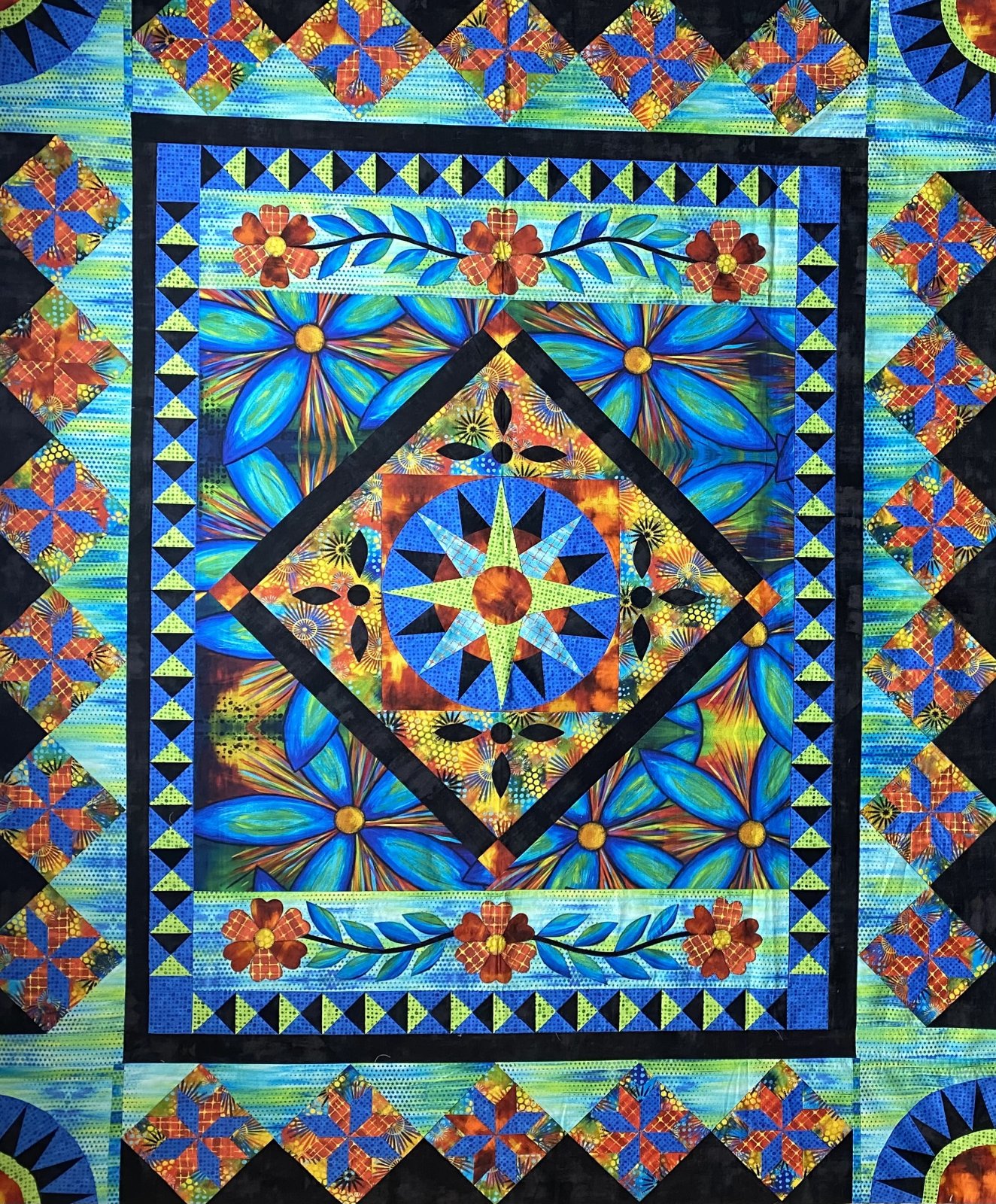 Learning to Quilt Two is Nancy's new book and class also known as "Great Lakes Voyage". This class with Nancy will cover more quilting techniques to build off of the Learning to Quilt 1 class; Mariners Compass, Reverse Applique, Blanket Stitch Applique, Quarter-Square Triangles, Lone Stars and New York Beauty blocks. These techniques are considered intermediate quilting techniques. There are seven sessions in the class. If you need assistance picking out your fabric please contact the teacher as soon as possible. Contact Nancy at Quiltingwithnancy@gmail.com
The prerequisite to this class is Nancy's "Learning to Quilt" class.
Supply List:
"Great Lakes Voyage" - Available at Smith Owen Sewing - payment to teacher via cash or check
Fabrics:
Using the purchased book to choose the "dark" or "light" color way for your quilt. Use the yardage from the book for your fabric purchases.
Sewing machine in good working order – only bring a small "class" machine if you are very comfortable using it – I recommend you bring that machine you do most of your piecing on so you feel confidant while working.
100% Cotton 50 Weight piecing thread – neutral color
New Sewing machine needle – Size 70 Microtex for piecing
Straight pins – I recommend the Clover Silk glass ball head pins.
Rotary cutter, 45mm size –a 28mm cutter will also be very helpful for the paper piecing techniques
Rotary mat: Mat 18" x 24"
Rulers - 6" or 6½" or 8½" wide x 24", 12" or 15" square and smaller rulers such as a 4x14 and 3.5"x3.5"
Seam Guilds from Guildlines4Quilters.
Spray Sizing – Mary Ellen's Best Press or Faultless
Marking tools – White chalk mechanical pencil and/or Frixion pens
Omnigrid Glow Tape for your ruler can be very helpful
Clover Mini Iron
Paper Piecing foundation paper – Martingale or Carol Doak brand
Roll of Freezer Paper, 18" wide – can be purchased at Meijer grocery store usually by the aluminum foil
Roxanne's Glue-Baste-It
Hand sewing needle and thimble – no larger than a size 10
Silk Thread – in a neutral color – light or dark depending on your fabric chooses
1 yard Steam-a-Seam 2 Lite
For the blanket stitch applique, you will need threads in the colors of your applique elements
Large and small scissors
| | |
| --- | --- |
| Skill Level: | Intermediate |
| Skill Details: | Must have taken Learn to Quilt 1 |
| Instructor: | Nancy Roelfsema |